How do they do it? How can an artist just pick up a brush and turn juicy paint into puffy clouds and oceans that could take us away forever? 
        Why does acrylic painting look so easy but seem so hard when I actually put paint to canvas?
Is it going to take a lifetime to figure this out?
What can I do to close the knowledge gap and start blissfully painting now?
Regular Price $99
 Purchase By 11/28 a get a $40 Gift Card for Select Courses!*
Yes, you are a creative person, that is why this desire keeps growing! You can begin painting today and it's not as hard as you think!
Introducing...
Seascape Escape is an easy step-by-step class to teach you how to paint abstract cloudy seascapes.
This is an excellent place to begin if you're new to acrylic painting and want to learn more about your materials and how to begin and end simple landscape paintings.
We start with the modern primary colors: cyan, yellow and magenta and learn how to mix up a rainbow.
The color wheel may seem like an elementary project, but it is a great eye opener to how colors work together. After you have the foundation of color down, we will begin working coast to coast on color schemes for different beach and seascape atmospheres.
Take your new found knowledge of color and paint and apply it to mini canvases.
You get a series of tutorials that build your knowledge of composition and design so that you can begin creating your own set of seascapes to hang on the wall, stack, add to your shelf or give as gifts.
In addition, these concepts are reinforced with additional videos of scaling the mini paintings to larger canvases. 
And because there are always extras with Kellee Wynne Studios, we have two complete bonus videos of a color mixing lab with an art journaling lesson.

Which acrylic paints will work best for the type of art you wish to produce.
How to start a painting so that the idea in your head is realized on the canvas.
Why your colors turn to mud and how to keep them vibrant instead.
Which brush strokes will create the best results for ocean, sand and sky.
How artists seem to make their skies glow and their clouds drift.
When should you call a painting finished and when you have gone too far
How to work from your imagination to create a modern beach scene.
14 Lessons with Over 4 Hours of Content 
Active Facebook Group with Live Q&A's 
PDF Instructions & Printables 
BONUS Course: Foundation Essentials
Purchase By 11/28 a get a $40 Gift Card for Select Courses!*
Regular Price $99
Get started today with instant access to over 4 hours of HD video hosted on an easy to use platform. Once you've registered, this video series is yours to watch, re-watch and enjoy for as long as you'd like.
When you enroll in Seascape Escape, you get:
SUPPLY REVIEW
A complete supply review to familiarize you with materials covered in the course and great alternatives so you don't have to buy everything.
MODERN COLOR MIXING
Introduction to Modern Color Mixing - using only 4 tubes of paint, Primary Yellow, Primary Magenta and Primary Cyan plus white, you will be able to mix a rainbow of colors and complete the color wheel.

OCEAN INSPIRED COLOR PALETTES
Lessons specifically to show you how to mix ocean inspired color palettes using our 4 tubes of paint. It's like paint alchemy seeing the new colors come alive!
ALTERNATIVE COLOR OPTIONS
Alternative color options to expand your color sensibility for seascape artwork.
STEP-BY-STEP TUTORIALS
Complete painting tutorials that explore color, composition and design for landscapes and seascape paintings, including how to paint mini seascapes in a series.

PRINTABLE CONTENT
Printable content including color guides and copyright free images.
Bonus Lessons: "Color Mixing Lab: Sunrise to Sunset" which is an extra 40 minutes of color mixing, a dreamy seascape art journal entry, and painting a seascape on a large canvas.
Knowledge about color use and inspiration ideas in printable PDFs for alternative ways to absorb the information.
Access to a joyful Facebook community of like-minded creative souls to keep you inspired.
Lifetime access to the online course, with the option to download the videos so that you can learn on your own time.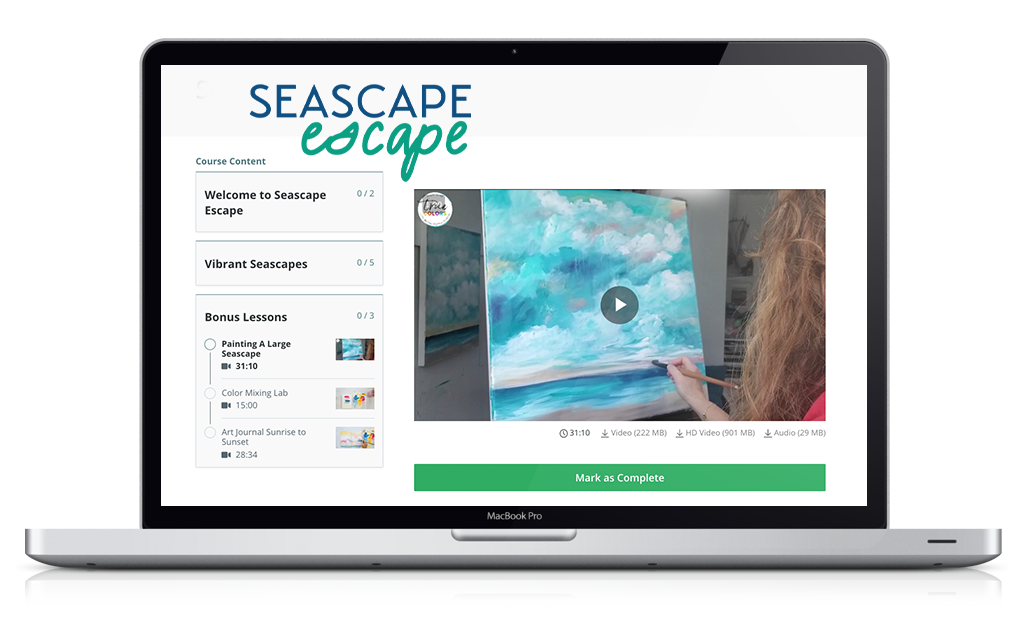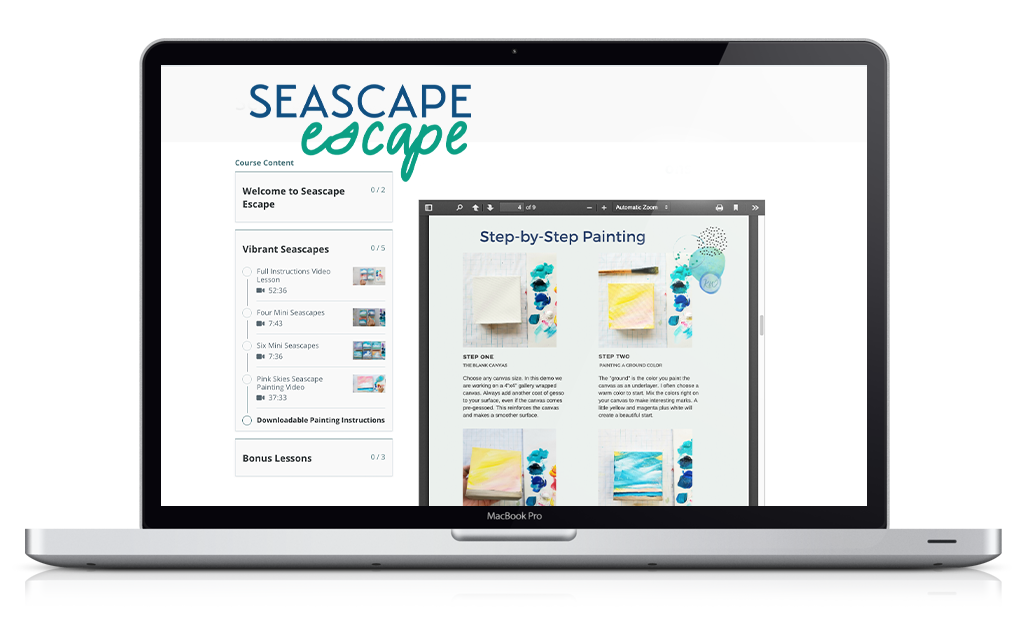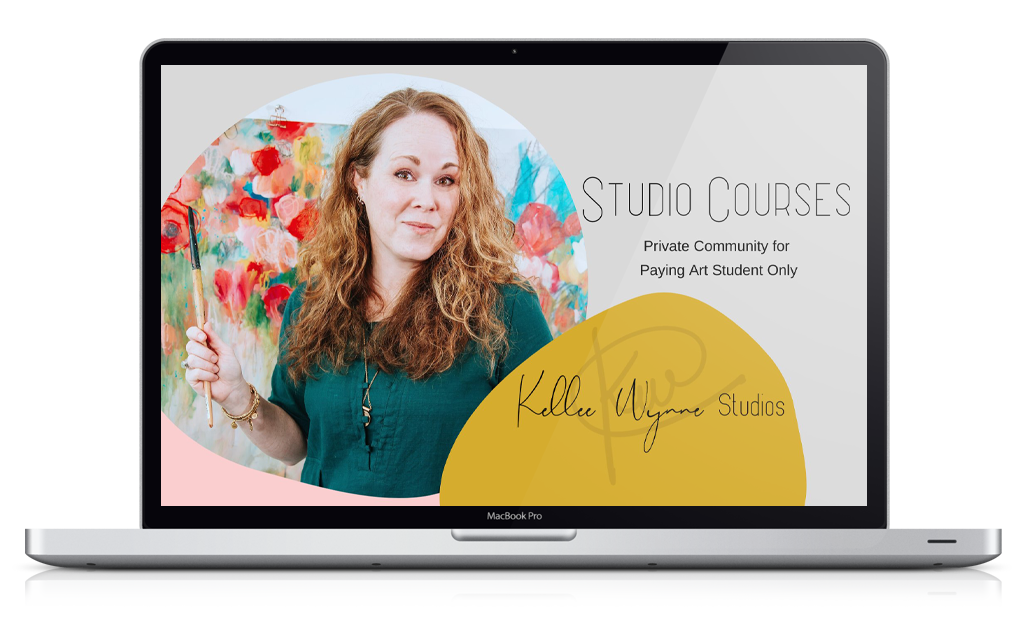 But wait... there's more, Your Bonus Course!
In addition to the HD Video Lessons in your new online course, you also get the complete Foundation Essentials bonus course worth over $150 and packed with over 20 lessons when you enroll today. 
You don't need to feel lost when it comes to the techniques you need to get started making art!
Painting Basics
This module will provide lessons on preparing your canvas, choosing brushes, the difference in types of acrylic paint, how to use fixatives, varnishing and wiring your canvas.
Color Harmony
Let's deepen the color mixing experience by reinforcing color theory with a thorough lesson on color theory to help you learn what makes for great color combinations and what makes mud.
More Color and Composition
We're not stopping with the color wheel. In the next module let's explore muted colors, mixing vibrant greens, value and what makes a a strong composition.
Mixing Lab Sampler
Finally, in the last module we practice our new found color knowledge by mixing up predesigned palettes colors using only 3 tubes of paint - cyan, magenta and yellow plus white.

I'M KELLEE WYNNE CONRAD, Artist and your creative guide.
Wynne (said win) is my middle name. I'm a redhead, I married a redhead and we have three redhead boys. It's never quiet around here! Art is my outlet and passion in the midst of a wild life. I am the founder of Color Crush Creative and author of the art book "Mixed Media Color Studio" which dives into my Modern Color Theory ideas.
After teaching more than 10,000 students in my online courses and in-person, I have come to see that what you really crave is permission to enjoy the process and create without fear and we do that in every course I teach. I am passionate about helping you find your own voice and your place in this wide world through expressing yourself creatively. Let's enjoy the journey together!
If you feel like you don't get 10x the value from this online art course and additional bonuses, you can make a request anytime within 14 days and we will happily refund your full price. 

How much time is required?

Each video tutorial is between 15 to 30 minutes long so they are perfect to watch at any time during the day to get a quick lesson completed. However as the goal is to be as creative as possible, you'll be wanting hours in your studio by the end of this!

What kind of support and feedback is available?

We always are happy to offer email support at admin@kelleewynnestudios.com OR would love for you to ask any questions in our Alumni Facebook group, where Kellee pops in often and you can gain the help and perspective from other students too.
I already bought another one of your online courses. How is this different?

Each course from Color Crush Creative has its own curriculum with different objectives. This course is specifically designed to teach color theory through the experience of mixing color palettes and using the mixed paint in new and playful art journal exercises. Color mixing is the foundation of almost all of Kellee's courses, but each time it's presented in a new way with new tutorials that will shed more light on the subject as well as mixed media and acrylic painting techniques.
Is everything available immediately?

Yes! Once you purchase the class your login details will be sent to you within the hour (make sure to check your junk and add admin@kelleewynnestudios.com to your contacts list).
I don't have many art supplies. Can I still do these lessons?

Absolutely! While Kellee always has her favorite supplies, we want you to be open and adaptable and use what you have. We will always provide alternative and affordable solutions. A proper list with links will be provided as soon as you register for the course.
Having said that, it is advised to have 4 tubes of heavy body acrylic paint to practice color mixing: Primary Magenta, Primary Yellow, Primary Cyan and Titanium White. Kellee prefers Golden Paints, but you can adapt to whatever brand fits your budget.
Here are most of the supplies that will be used in this art course: Acrylic Paint, Brushes, a palette knife, a palette, small square canvases, large canvas or paper, fluid medium like GAC 100 by Golden Paints.

Can I get a refund?

If you feel like you don't get value from this online art course and additional bonuses, you can email us at admin@kelleewynnestudios.com anytime within 14 days and we will happily refund your full purchase price. *note content is not downloadable until after the refund period ends.
Do I need a special program to access the materials?

All you need for this course is a device such as a laptop, tablet or phone and an internet browser (we recommend Chrome).
Can this be accessed without the internet?

To access this class you will initially need internet access, however as a bonus we provide downloadable files for each of the five lessons so you can watch offline later.
When you enroll in Seascape Escape, you get:
14 Lessons with Over 4 Hours of Content ($195 Value)
Active Facebook Group with Live Q&A's (priceless)
PDF Instructions & Printables ($35 Value)
BONUS Course: Foundation Essentials (Over $150 Value)
Purchase By 11/28 a get a $40 Gift Card for Select Courses!* 
* Must be used before 12/31/2022 and can only be applied to courses over $50. May not be used retroactively.
©2018 - 2022 Kellee Wynne Studios, All Rights Reserved | PRIVACY POLICY